Artist
Sakai Hōitsu
(酒井抱一; 1761–1828)
Catalogue information
Edo period, 1824
Handscroll; ink and light color on paper
29.5 x 827.6 cm (11 5/8 in. x 27 ft. 1 7/8 in.)
Donated to The Metropolitan Museum of Art, New York by the Mary and Jackson Burke Foundation in 2015
Literature
McKelway 2012, pp. 126–27, no. 36
2012
Silver Wind: The Arts of Sakai Hōitsu (1761–1828). Exh. cat. New York: Japan Society Gallery.
Additional details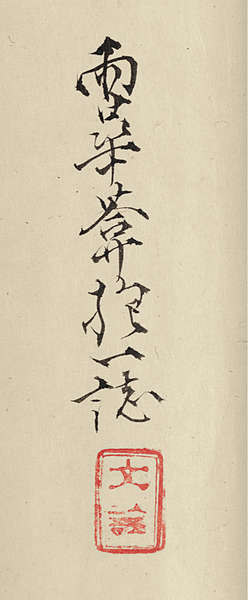 Text
by Hōitsu
[at right, poems by Sarumaru Dayū]
[Sarumarushū 3] Sarumaru // Everyone has reasons / to change his heart / like Tsukikusa grass shifts its colors.
[Kokin wakashū 215] Treading through the autumn leaves in the deepest mountains, / I hear the belling of the lonely deer— / then it is that autumn is sad.
[at left, poems by Ono no Komachi]
[Kokin wakashū 938] I have sunk to the / bottom, / and like the rootless / shifting water weeds / should the currents summon me / I too would drift away.
[Kokin wakashū 113] A life in vain. / My looks, talents faded / like these cherry blossoms / paling in the endless rains / that I gaze out upon, alone.
Signature
[at end of scroll] Recorded by Uge-an [Ukaan] Hōitsu, tenth month, winter of 1824
Seal
[at end of scroll] Monsen
Supplementary Transcriptions
Seal
文詮(朱文長方印)(relief, rectangle)