Artist
Kameda Bōsai
(亀田鵬斎; 1752–1826)
Catalogue information
Edo period, ca. 1817
Hanging scroll; ink and light color on silk
107.2 x 48.6 cm (42 1/4 x 19 1/8 in.)
Donated to The Metropolitan Museum of Art, New York by the Mary and Jackson Burke Foundation in 2015
Literature
Addiss 1984, no. 22
1984
The World of Kameda Bōsai: The Calligraphy, Poetry, Painting, and Artistic Circle of a Japanese Literatus. Exh. cat. New Orleans: New Orleans Museum of Art; Lawrence: University Press of Kansas.
;
Murase 1993, no. 31
1993
Jewel Rivers: Japanese Art from the Burke Collection. Exh. cat. Richmond: Virginia Museum of Fine Art.
;
Murase 2000, no. 167.
2000
Bridge of Dreams: The Mary Griggs Burke Collection of Japanese Art. Exh. cat. New York: The Metropolitan Museum of Art.
Additional details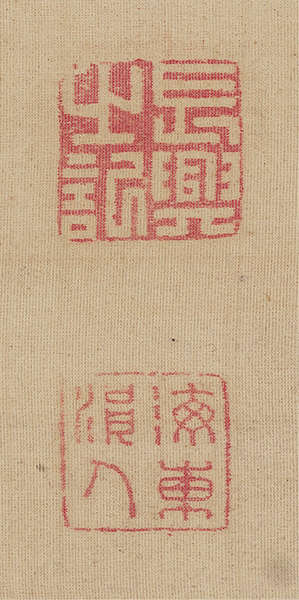 Signature
Painted by Bōsai rōjin kōsui
Seals
Kikubu shōsho; Chōkō no ki; Kaitō rōnin