Artist
Ishikawa Kōsai
(石川鴻斎; late 19th–early 20th century)
Catalogue information
Meiji era, 1902
Triptych of hanging scrolls: two panels of flowers flanking central panel depicting Viewing Kegon Falls (観華厳滝); ink, color, and gold on silk
Each panel 111.8 x 29 cm (44 x 11 3/8 in.)
Gift from Leighton R. Longhi to the Mary and Jackson Burke Foundation, 1986
Donated to the Minneapolis Institute of Art by the Mary and Jackson Burke Foundation in 2015
Additional details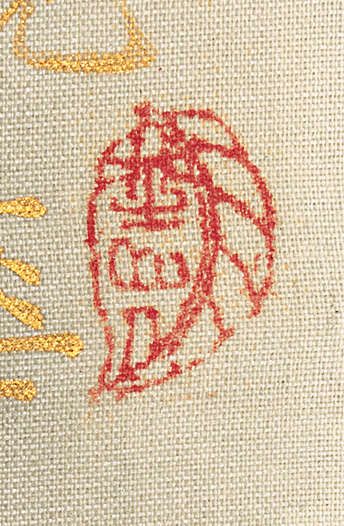 [on center scroll]
Text
Recorded at viewing the Kegon Waterfall, in early… [illegible].
Signature
Kōsai Koji Ishikawa Ten
Seals
Shiba Sanjin; Sekikeiei in; Kunka
[on right scroll]
After drizzling for scores of days, even the rain gets old. / I envision the flowers in disarray by the river far away. / To soothe my mind, in a small pavilion, I leisurely pick up a brush / and paint some cut branches in the manner of Nanden [Un Juhei (Ch. Yun Shouping, 1633–1690)].
Signature
Painted by Kōsai Koji Sekiei in the spring of 1902
Seals
Shiba Sanjin; Sekikeiei in; Kunka
[on left scroll]
Text
The skill of Master Un Juhei [Ch. Yun Shouping] has no precedent; / who can emulate his painting of gorgeous flowers? // Self-mocking as the ugly one from Wuyan [modern Shandong] Province, she still expects appreciation from the King of Sai [Ch. Qi]. // In my spare time after lecturing and reading, I paint landscapes and bamboo with rocks for fun. When it comes to flowers and birds with patterned plumage, my awkwardness becomes even worse. A chance reading of 'Shōzan gafu' [Ch. Xiaoshan huapu] by Sū Ikkei [Ch. Zou Yigui, 1686–1772] made me eager to try my hand. I rushed to gather some rosy pigments and painted a variety of flowers and cut branches. It is deplorable that my brush has turned rusty and the painting appears extremely crude. Compared with professional dyers and paint-workers, however, I may boast certain merits.
Signature
In the late spring of 1902, Shibayama Gaishi Sekiei [1833–?] at the age of seventy
Seals
Shiba Sanjin; Sekiei Kunka; Kōsai