Catalogue information
Kamakura period, 14th century
Hanging scroll; embroidered silk
59 x 25.2 cm (23 1/4 x 9 7/8 in.)
Donated to the Minneapolis Institute of Art by the Mary and Jackson Burke Foundation in 2015
Literature
London Gallery Ltd. 2000, no. 110.
2000
[Editor]. Buddha's Smile: Masterpieces of Japanese Buddhist Art. Exh. cat. Tokyo: London Gallery.
Additional details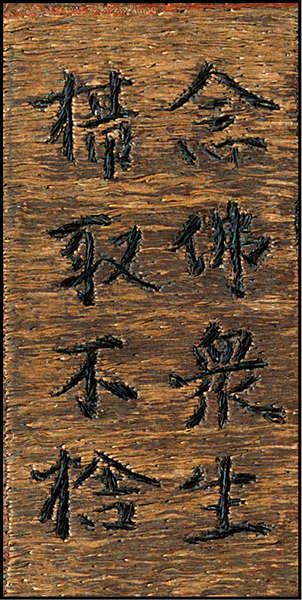 Text
[center] seed syllables for (top) Amida Nyorai, (right) Kannon Bosatsu, and (left) Seishi Bosatsu
[above right] The light of Amida illuminates the entire world.
[above left] All who praise Amida will be saved.