Artist
attributed to Yintuoluo
(因陀羅; full name Fanyin Tuoluo [梵因陀羅]; fl. late 13th–first half of 14th century)
Catalogue information
Yuan dynasty, late 13th century
Hanging scroll; ink on paper
87.5 x 31.2 cm (34 1/2 x 12 1/4 in.)
Donated to the Yale University Art Gallery by the Mary and Jackson Burke Foundation in 2015
Ex Coll.: Masaki Naohiko, Tokyo, 1938
Literature
Harada Kinjirō 1938, p. 117.
1938
Nihon genzai Shina meiga mokuroku (Catalogue of Chinese masterpiece paintings in Japan). Tokyo: Ōtsuka Kōgeisha.
Additional details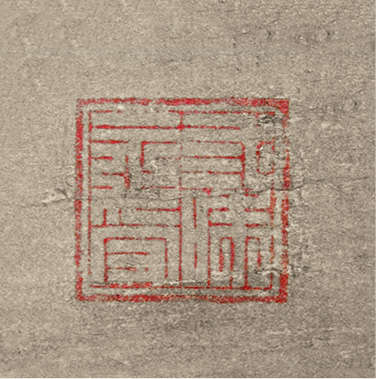 Seal
Perpetual state of Samadhi [Sanmei yongshou, 三昧永受] (square, intaglio)
Text
[attributed to Yuji Zhihui (愚極智慧; ca. 1215–1300)]
Clapping hands he comes, opening wide his smiling mouth. / Reciting verses incompletely and composing poems without rhymes, / he abandons [worldly concerns] and works with a bamboo broom. / In front of Five Peaks, behind Twin Torrents, / in the lion's cave, there is no other animal.
Signature
Yuji of Jingci [Monastery] eulogizes (Jingci Yuji zan 淨慈愚極賛)
Seals
Yuji [愚極] (square, relief); Foxin [佛心] (square, relief)