Artist
Catalogue information
Qing dynasty, 1669
Handscroll; ink and color on paper
38 x 187.5 cm (15 x 73 3/8 in.)
Donated to the Yale University Art Gallery by the Mary and Jackson Burke Foundation in 2015
Additional details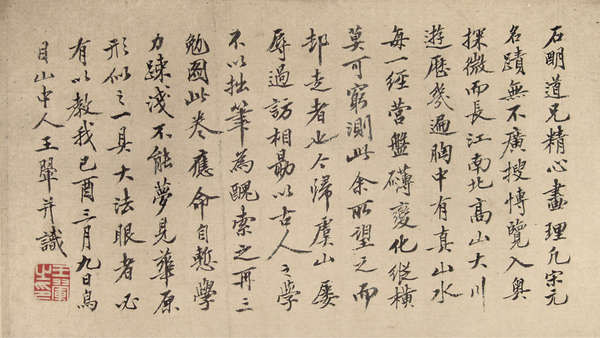 Text
[by artist] Shiming, my fellow artist, is an expert in the principles of painting. He collects widely and studies broadly the famous works of the Song and Yuan dynasties, understanding their profundities and searching out their subtleties. Moreover he has traveled to almost all of the tall mountains and great rivers to the north and south of the Yangzi River. With true landscapes in his mind each [of his paintings] is planned and expansive with free transformations that cannot be thoroughly fathomed. When faced with such paintings, I want to withdraw. Now that I have returned to Yushan he often visited, stimulating me with the teachings of the ancients. He does not consider my awkward brushwork as ugly and repeatedly asks for it. I have exerted myself to paint this scroll in response to his request. Ashamed at the shallowness of my learning, even in my dreams I cannot see the least resemblance to Huayuan (Fan Kuan). As a great connoisseur you certainly have something to teach me.
Signature
[of artist] On the ninth day of the third month of the jiyou year [1669], the Man of Wumu Mountain, Wang Hui [painted] and inscribed (jiyou sanyue jiuri Wumu shan zhongren Wang Hui bing zhi 己酉三月九日烏目山中人王翬并識)
Seal
[of artist] Seal of Wang Hui [Wang Hui zhi yin 王翬之印] (square, intaglio)
Text
[by inscriber Fang Hengxian (jinshi 1647)] Master Su [Shi] was boastful, rarely doing paintings for anyone. Mi Manshi [Fu] coming from Hunan on business passed by Huangzhou. Tipsy at their first meeting, he [Mi] rose to put a piece of Guanyin paper on the wall and [Su] painted withered trees and strange rocks to give to him, saying "only you deserve this work." Shigu [Wang Hui] did this for Shimin in the same vein. Both Shi [Shigu and Shimin] enjoy equal reputations in calligraphy and painting: [Shigu] excels in techniques, while [Shi]min excels in conceptions. Concerning conceptions and techniques, I have discussed in detail the distinctions between Wang and Ruan in Vice Minister Lixia's [Zhou Lianggong] calligraphy album. Discussing painting is the same.
Signature
[of inscriber] On the seventh day of the seventh month of the eleventh year, renzi, of the Kangxi reign [1672], the Retired Scholar of Longmian, Fang Hengxian, viewed and therefore inscribed (Kangxi shiyi nian renzi qiyue qiri Longmian jushi Fang Hengxian guan yin ti 康熙十一年壬子七月七日龍眠居士方亨咸觀因題)
Seals
[of inscriber Fang Hengxian (jinshi 1647)] xizuoxing 細作行 (circular, relief); Hengxian [Hengxian 亨咸] (square, intaglio); Viewed by Fang Shaocun [Fang Shaocun zengguan 方邵村曾觀] (square, relief)