Artist
Shūtoku
(周徳; fl. first half of 16th century)
Catalogue information
Muromachi period
Hanging scroll; ink and light color on paper
71.1 x 40.6 cm (28 x 16 in.)
Donated to the Minneapolis Institute of Art by the Mary and Jackson Burke Foundation in 2015
Literature
Additional details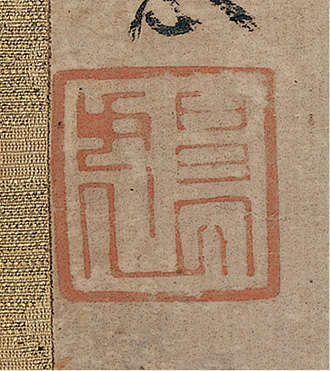 Seal
[lower right] Shūtoku
Text
by Yōkoku Kentō (d. 1533)
Though the west lake swells with water as spring arrives, / the emerald bamboo outdoors blocks the sight of boats. / Had the east wind facilitated his quest, / he would have returned by boat in moon­light to the frosted land of Wu faraway.
Signature
Kakyō Kansho Dōjin Kentō
Seal
[upper left, right-hand seal] Yōkoku
Text
by Teihō Shōchū (fl. ca. 1538)
Floating in a boathouse on the brimming spring river, / what could one desire in a sound sleep after mooring? / In nothing but insouciant boating would I spend the rest of my life, / with mountains along the white gull-dotted stream as my beauties.
Signature
[upper left, above left-hand seal] Shōchū, formerly of Kenchōji
Seal
[upper left, left-hand seal] Shōchū
Supplementary Transcriptions
Seal
周德(白文方印)(intaglio, square)
Text
西泊春來雖水肥﹐
碧湘門外掩船扉。1
東風若為斯郎便﹐
一髮吳霜棹月歸。2
Signature
佳境甘蔗道人乾瞳
Seal
彼谷(白文方印)(intaglio, square)
Text
春水滔天屋檨浮﹐
泊船栽睡所何求。
殘生只付風流檝﹐
山是美人江白鷗。

Signature
前福山昌忠
Seal
昌忠(朱文方印)(relief, square)
Notes
1. The character "湘"refers to the species of speckled bamboo associated with the goddess of the Xiang River in modern Hunan Province. In Zhang Hua's 張華 (232-300) Collective Notes on Miscellaneous Things (博物志), it says, "Yao's two daughters became Shun's two imperial consorts, known as Lady Xiang. Upon Shun's death, the two consorts cried so much that their tears speckled the entire bamboo grove." (堯之二女,舜之二妃,曰湘夫人。舜崩,二妃啼,以涕汨揮,竹盡斑。)
2. The third line of the poem alludes to Du Mu's 杜牧 (803-853) poem "The Red Cliff" (赤壁), in which the man refers to Zhou Yu 周瑜 (175-210), commander-in-chief of the Wu Kingdom in the Three Kingdoms Period (220-265). The timely east wind helped Zhou Yu defeat Cao Cao's 曹操 (155-220) naval fleet and won the battle at the Red Cliff, in modern Hubei Province, in 208. The identity of the man in the poem inscribed here is not clear.