Artist
Kaihō Yūshō
(海北友松; 1533–1615)
Catalogue information
Momoyama period, ca. 1602–3
Panel of a folding screen, mounted as a hanging scroll; ink and gold on paper
71.5 x 37.8 cm (28 1/8 x 14 7/8 in.)
Donated to the Minneapolis Institute of Art by the Mary and Jackson Burke Foundation in 2015
Literature
Additional details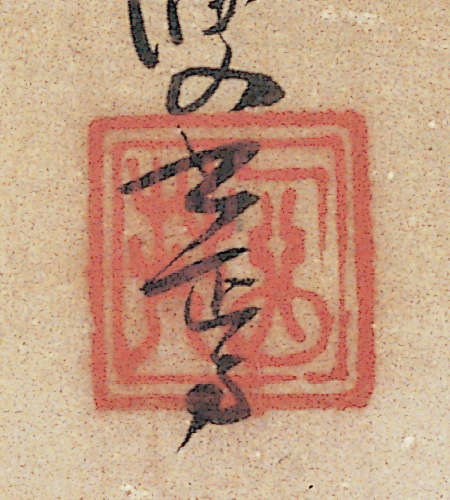 Seal
[lower left] Yūshō
Text
by Saishō Shōtai (1548–1607)
Ten thousand miles of river and sky send thoughts ten thousand miles away. / Blowy snowflakes fall like catkins over stretches of woods. / The bridge lay sideways; the road was blocked; the horse slipped. / Think further why he felt like turning around at the Lan Pass.
Signature
To the right is an old poem by Gyokukan [Ch. Yujian; fl. mid-13th c.] transcribed by Shōtai.
Seal
Saishō
Supplementary Transcriptions
Seal
友松(朱文方印)(relief, square)
Text
萬里江天萬里心﹐
飄飄花絮洒平林。
橋橫路斷馬蹄滑﹐
更論藍關轉不禁。 1
Signature
右玉澗古詩,承兌叟書正事。2
Seal
西笑(朱文方印)(relief, square)

Notes
1. This is Yujian's poem on the view of Evening Snow Over an Expanse of River and Sky (江天暮雪), one of the Eight Views of the Xiao and Xiang Rivers (瀟湘八景). The second couplet of the poem alludes to Han Yu's韓愈 (768-824) poem "To My Grandnephew Xiang upon Arriving at the Lan Pass on My Journey to the New Post after Demotion" ("左遷至藍關示侄孫湘"). In 819, Han Yu submitted a memorial to Emperor Xianzong of the Tang dynasty (r. 805-820) that detailed the detrimental consequences of the Emperor's decision to bring the Buddha's relics to the capital. Outraged by his audacity, the Emperor banished him to Chaozhou in the remote south. [See Liu Xu劉昫, Old History of the Tang Dynasty (舊唐書), chapter 15 "Chronicle of Xianzong's reign." On his way there, Han Yu was detained at the Lan Pass near Lantian, Shaanxi Province, as his horse refused to cross the snow-covered mountain ridge. He composed the poem for Han Xiang, who came a long way to meet him there.
2. During the late Southern Song (1127-1279) and the early Yuan dynasty (1271-1368), there were four Buddhist monks named Yujian, i.e., Bin Yujian彬玉澗, Ying Yujian瑩玉澗, Meng Yujian孟玉澗, and Yujian Ruofen玉澗若芬. Suzuki Kei 鈴木敬identified the painter known for his misty landscape as Yujian Ruofen, a native of Jinhua, Zhejiang Province, and a monk of the Tiantai Sect, specializing in depicting cloudy mountains. See Suzuki Kei, "A Study on 玉澗若芬"(玉澗若芬試論), Bijutsu Kenkyu 236 (March 1965), pp. 1-14; Toda Teisuke戶田禎佑, "A Brief Study on Mokkei"(牧谿序說), in Mokkei, Gyokkan (牧谿,玉澗), Tokyo: Kōdansha, 1978, p. 66.