Artist
Yanagisawa Kien
(柳沢淇園; 1704–1758)
Catalogue information
Edo period
Hanging scroll; ink and color on paper
137 x 31.9 cm (53 7/8 x 12 1/2 in.)
Donated to The Metropolitan Museum of Art, New York by the Mary and Jackson Burke Foundation in 2015
Ex Coll.: Itō Hirokuni
Literature
Additional details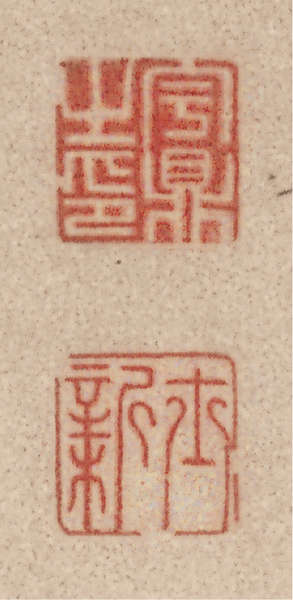 Seals
[upper right] Kien; Ku Yo iwaku Kōmi
[lower left] Gungyoku Sanbō
Text
Three poems by Uno Shishin (宇野士新; 1698–1745)
[Poem 1] If not for frequent inflictions of illness, / how can I let go my high ambitions? / My undeserved fame stays whether in office or retirement. / Drifting about, how can I rise or fall in status? / Being lazy, I do not mind people who ignore me. / Roaming at will, I loathe intrusions from guests. / Myriad mountains in autumn colors. / Leaning on a walking cane, they are naturally hard to reach.
[Poem 2] When visitors come, I excuse myself from them all. / Upon encounters, I recline on my tea table for a nap. / Metaphysical discussions are ultimately plain chitchat. / Literary creativity has lost its former brilliance. / Time and again I puzzle over the cause. / People's love of antiquity is gone. / Who would sit alone in the present world? / The only thing left of Ruan Xuanzi is mere money.
[Poem 3] It is hard to judge the things of the world. / Frequently ill, I am nonetheless very fortunate. / Utterly free, I am no one's puppet. / Creeping figs and wild vines can be my attire. / Unconcerned with my fame as a poet, / I let my scholarship run its own course too. / Those who wear light furs and ride fat horses / regret in vain at hair turning gray. / To the right are three of my casually composed poems, transcribed for someone at my leisure.
Signature
Utei
Seals
[right poem, upper right] Meika
[upper middle] Utei no in; Shishin
Text
Six poems by Miyazaki Kinpo (宮崎鈞圃; 1717–1774)
[Poem 1] Having depicted Xiangyang County in painting, / I vividly recall past visits there. / On Mount Xian I once halted my horse. / Up and down the Han River I used to go boating. / The reddish valleys always feel like under a clearing sky. / The pines do not change their green in autumn. / The painting is merely a few feet long, / but my thoughts travel thousands of miles afar.
[Poem 2] The official residence is quiet by day. / The painting shows off the grandness of the landscape. / The Sword Gate Pass stands to the north of the Star Ridge. / To the east of Pine County lies the Snow Ridge. / Mountains extend from the Chinese realm all the way to aborigines' land. / The Wu is linked to the Shu by waterways. / Inspired by the beautiful clouds that meet our eyes, / we exult over the goblets filled with pure wine!
[Poem 3] Who painted these wisps of clouds? / Under dust, their powdered pigments have faded. / They did not leave to make rain, / nor follow the wind to return home. / Helplessly stuck frozen on the wall, / they seem yearning to float toward my clothes as I look back. / Through the art of painting, / they may ascend to heaven in flight.
[Poem 4] Artistic excellence through three generations of a family is unique in the world. / The lively brushwork here and there witnesses their superb skill. / Dark cliffs are endowed with free-flowing momentum; / dry bushes are lightly rendered in splashed ink. / Chilly clouds descend and devour the vast desert. / Spring rain crosses the river to spread over the entire Wu region. / Sitting long in this elegant hall, I grow increasingly confused, / realizing it is a painting rather than mountains and streams.
[Poem 5] The most essential is brushwork. / The limited picture space tests a painter's skill. / The sun and the moon appear in the main hall. / Rivers and lakes come into the view of seated guests. / The night haze turns moist and dewy; / the autumn cliffs glow in chilly air. / I empathize with the man of the past, / whose lifelong poetic sensibility lingers here.
[Poem 6] Youcheng [Wang Wei, 701–761] has passed away; / few of his paintings have survived. / The limited picture space covers an expanse of rivers and lakes, / where common waterfowls and birds fly. / The beauty of the mountains is entirely within his mastery; / The cloud vapor seems about to touch my clothes. / Taking delight in this every now and then, / I feel like withdrawing from the world for life. / Written by Kaisei Miyazaki in the spring of 1763
Seals
[left poem, upper right] Koike
[upper left] Miyazaki; Shijō